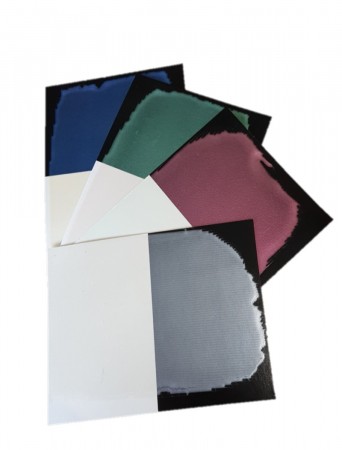 Pearl Top Coats
Create arts, crafts and feature walls with iridescent pearl effects.
The pearl colour effect is strong over dark colours and weak over white and light colours so they are often used over black.
Protective, UV stable Top Coats for Interior and Exterior.
Pearl Top Coats
Acrylic top coats that create an iridescent pearl effect. Protective, UV stable, hard wearing Top Coats for interior and exterior.
Over black and dark colours the colour effect is very strong. Over white and light colours the colour effect is weak (subtle) and is usually seen when the object is moved.
Video:
Feature Walls
They are best when painted over black or dark colours. You can create the most beautiful feature walls by painting the wall black and then applying Pearl Top Coat over the black. The wall will definitely not look black once you have finished.
Over Painted Art
These products offer great creative opportunities but if coating art or multi-coloured surfaces then tests should be conducted to understand their effects over different colours as darker colours will be completely transformed. Due to this they should not be used as a pearl coat over painted art before the artists understands their effects. On artwork they can also be applied selectively over certain features using a paint brush.
Comparing Pearl Paints and Metallic Paints
Nobody would confuse a piece of metal such as gold, silver, copper, brass, bronze etc. for a pearl. The appearance of pearls and mother-of-pearl is distinctly different to that of metals.
The most fundamental difference is that pearls appear to reflect light from below their surface while metals reflect light directly from their surface. The pearl effect is sometimes called an "iridescent" effect or "interference" effect. Wiki describes the pearl paint effect as "bending the light to throw off a soft glow". Metals have a more solid colour and if polished they tend to be more glossy while pearls have a more subtle sheen (but are not matt).
Some manufacturers tend to name their metallic paints as pearl or mother-of-pearl paints. Presumably the reason for this is marketing differentiation but it can be confusing when you find your pearl paint gives a metallic effect and not a pearl effect.
There is another effect sometimes associate with mother-of-pearl and that is a colour transition or colour shift effect. This is not often seen in pearls themselves but nacre deposited on oyster shells (called mother-of-pearl) can have this beautiful effect. Sometimes oyster shells are described as displaying an "oil slick" appearance. Paints that give this effect are not common but are usually called Colour Transition, Colour Shift or Chameleon Paints. To achieve this ultimate mother-of-pearl effect you need our Colour Transition Paints. Our Pearl Top Coats impart a non-shifting peal colour.
Factors that influence the final appearance of Pearl Top Coats
The colour they are painted over:​​ The strength of the pearl colour is highest over black and lowest over white. When painted over white their colour may be nearly absent resulting in a white to cream pearl effect. When painted over black the colour effect will be strong and dominant. They are usually painted over dark colours and feature walls should b painted black first.
Surface texture and shape: Over black and dark colours the coloured pearl effect is always visible. Over flat surfaces that are white or light colours the pearl effect may only be seen as a cream pearl colour. If these surfaces are curved or angled a subtle colour pearl effect will usually be visible. Direct light shining onto the surface increases the colour effect on white surfaces.
We suggest that you experiment with these products before painting onto art or mulit-coloured surfaces.
In a way these Pearl Top Coats work opposite to normal paints in that they have a good opacity when applied over black surfaces and a poor opacity when applied over white surfaces.
Application
Prepare and prime surfaces as per normal acrylic paint.
Do not pour these Pear Top Coats onto art works as they require the application of thin films.
Usually only apply a singe coat. The beautiful colour effect over dark colours can actually reduce if a second coat is applied.
In order to minimise marks from application, e.g. brush marks, these are very low viscosity (hight flow) acrylics. They need to be stirred before and during application (when in use a brief stir every 15 minutes is adequate). To avoid air bubbles do not shake the containers to mix them but stir gently.
Small surfaces
On smaller surfaces they are often applied with a foam roller. Pop bubbles formed by the roller with torching or blowing.
Large surfaces
Apply with brush, roller, airless spray or good air-spray equipment.
Move roller only up and down (not left to right or diagonally). Keep a wet edge. You can use the same guidelines as for painting with our Metallic Paints. There is an attachment in Technical page of the website called "How to paint with Metallic Paints" that will be useful.
Keep out of reach of children
All our products should be kept out of reach of children under 5 years and anybody who may tend to place items or liquids in their mouths should be supervised. Even packing can become a choking hazard.
Package

Package

100ml

300ml

1 Litre

Colour

Colour

Irisdescent Silver

Iridescent Green

Iridescent Red

Iridescent Blue
Recently Viewed